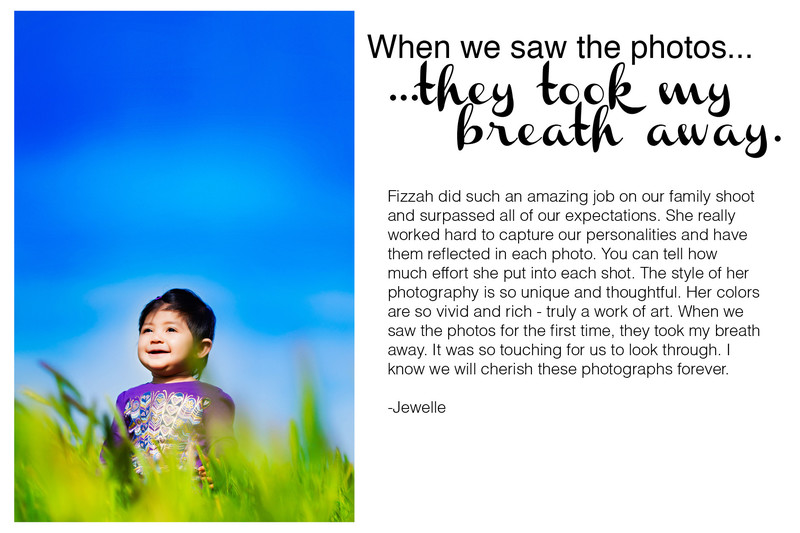 Q: How much are sessions and what do they include?
A: We offer a few different types of session options as well as a simple set of beautiful, heirloom printed products. Please contact us using the contact form, via email or at the studio at (615) 707-7808 to get more information about pricing and availability.
Q: How long is each shoot and when will I see my photographs?
A: The length of the session depends on which type of session you choose and the circumstances of the shoot. Please contact us through my the contact form or at (615) 707-7808 to get more information.
Q: How far in advance should I book my session?
A: In order to dedicate the time necessary to create customized portraits, we offer a very limited number of sessions per month. Sessions often book out two to three months in advance - please plan accordingly.
Q: Where are we going to take the pictures?
A: This all depends on a few things - what type of session you are booking and your personal preference. Most Glamour Makeover Sessions are in studio but depending on the client, we've customized location shoots as well. Personal Branding Sessions can be a mix of studio and on location, especially if we're trying to showcase a specific set of skills or aspects of you and your brand. We love photographing families in their homes for so many reasons - kids are usually the most comfortable in their own spaces, your home is a space you'll want to remember and because everything you may need will be within arms reach. We do photograph families on location throughout Nashville, Brentwood, Franklin, Hendersonville and Murfreesboro. We work with you to determine what kind of location best suits your family and vision.
Q: I'm a little worried about "posing" and still looking natural. Can you help?
A: As a woman and a photographer, Fizzah knows what looks beautiful and how to bring it out of our clients. You don't need to stress about posing at all because she will draw upon her teaching background to walk you through every step so that you look your very best. We give a lot of positive direction and feedback when posing so that we can bring out your best best features in the most natural and flattering way. Plus she's a mom and a former teacher of 8 years, so she brings her best tricks in getting your kids to loosen up and have fun at our Lifestyle Family Sessions.
Q: What products do you offer?
A: We took a long time to search for the perfect products to offer with my sessions. We are absolutely in love with every product we've chosen to offer because we truly believe they are gorgeous and made from the best quality materials so they will last a lifetime. Our studio specializes in creating heirloom quality portraits for display in your home or office. We offer various types of wall art - framed prints, canvas, acrylic and metal - for display in your home. We also offer unique high quality albums and matted fine art prints in a gorgeous presentation box.
Q: Do you provide digital negatives or raw files?
A: Most people usually only want digital images so they can share their photographs with family and friends via email and social media. Digital files of the final retouched portraits for you to use for personal printing are available for purchase.
Unlike other photographers in the area, we do not provide the actual raw files (files straight out of the camera without any processing, also known as digital negatives). Our studio is focused on creating artwork for your home and we do everything we can to ensure that you love your images as much as we do.
Q: Is the Style and Concept Consultation really necessary? I have a pretty packed schedule and don't have time to talk or meet before my session.
A: The Style and Concept Consultation is absolutely necessary and probably the most important part of your session! It is the most important element in making your portrait session experience a success. We work together during that time to fine tune your vision for your dream session, discuss ideas about what you want your photos to convey about you, wardrobe, hair, makeup, location, etc. By going over this information together, you will feel more confident and comfortable at your session. The consultation also gives you the opportunity to see which products we offer. Lastly, we are right there to answer and questions or concerns that you have on the spot.
Q: Do you photograph Maternity Sessions?
A: Absolutely! Maternity Sessions can be photographed in studio in the Glamour Makeover style or on location as a lifestyle shoot. Contact us using the contact form or by phone (615) 707-7808 for more information.
Q: Do you photograph Newborn Sessions?
A: Yes we do - we photograph newborns in home as a lifestyle session. This means that we do not photograph newborns in lots of different swaddles with props. Our style of newborn photography is more relational and welike to capture the connection between parents, siblings and baby. Contact us using the contact form or by phone (615) 707-7808 for more information.
Q: We have fur babies - can we include our pets in our session?
A: Fur babies are often part of the family. So yes you definitely can include them in your lifestyle session. However, we does ask that you keep your fur babies and pets close to you during the session as Fizzah does get a bit nervous when pets get excited and jump around or on her.
Q: What should we wear?
A: We work closely with our clients during the Style and Concept Consultation to plan out wardrobe whether it is for a Lifestyle Family Session, a Glamour Makeover Session or for your Personal Branding Session. We will get it done and you will look amazing, promise.
Q: Is hair and makeup included in my session?
A: Our goal is provide you with a relaxed and fun experience, we provide professional hair and makeup for Glamour Makeover Sessions. This is your time to get pampered and fussed over by a fabulous team of professionals that will transform you into the most stunning version of yourself. You will feel like a super star! In fact, you will look so drop dead gorgeous, we always recommend that you schedule a date night with your honey or a girls night out on the day of your session! You can check out some fabulous before and after photos, here. We do not include professional hair and makeup for Lifestyle Family Sessions but we do highly recommend getting professional hair and makeup done because it makes a world of difference in how you feel and look. You are investing your time and money in portraits and should consider hair and makeup as a part of the investment, if possible.
Q: I would LOVE to experience a Glamour Makeover Session with my mother/daughter/grandmother/sister/best friend. Can I do that?
A: Absolutely! We love to incorporate loved ones in Glamour Makeover Sessions. Get in touch with us about who you'd like to be photographed with and we can make it happen.
Q: How do I book my session?
A: Simply fill out the contact form and we will reply to you within 24-48 hours via email with current availability. Once we've agreed upon a date, we will email you a contract and deposit which must be submitted in order to reserve your date. If you'd like more information you can also call us at the studio, (615) 707-7808 or email us at fizzah@fizzahraza.com.
Q: Do you offer Mini Sessions?
A: Yes - we do offer a limited number of Mini Sessions during the year. These are super popular and sell out very quickly. If you'd like to know when the next Mini Session opens up for booking, please sign up for email updates by clicking here.
Q: How do I stay in the loop with your blog and your services?
A: You can keep up with our blog postings by adding my blog feed to your blog readers (RSS) and through our Instagram page. Another way to stay in the loop with specials, promotions and travel is to sign up for email updates by clicking here.
Q: I'd like to book a portrait session but I don't live in Nashville. Do you travel for sessions?
A: We love to travel and take every opportunity to do so. If you are interested in booking a session in your city, we can discuss the details of your session as well as travel expenses. Ronnie and I travel as often as we possibly can and will book a limited number of sessions during our trip. If you'd like to know when and where we are traveling to your area, sign up for email updates here.
---
Nashville Portrait Photographer Fizzah Raza Photography - (615) 707-7808 - fizzah@fizzahraza.com - Copyright © 2019