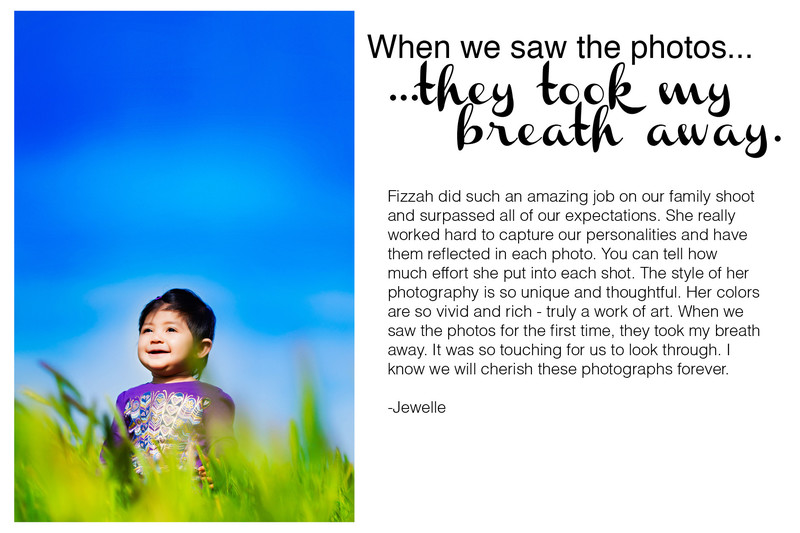 Q: I'm looking for a portrait photographer that fits my style. What is your style?
A: My images here are a good representation of my photographic style. I describe my style as contemporary, magazine style images that are glamorous, sensual and vibrant. I really like clean lines, a strong sense of color, and a really polished look.
Q: I am definitely interested in booking a session! Where can I get more information about what to expect?
A: Fabulous! I'm so excited to get you all set up and ready for a fabulous session. My team and I do work very hard to make this experience fun and simple for you, without compromising on quality. The best way to get more information is to call me at the studio, (650) 784-2283, or submit the contact form so we can talk about the details and what you can expect when you book a portrait session with me.
Q: How far in advance should I book a Glamour Makeover Session?
A: In order to dedicate the time necessary to create customized portraits, I offer a very limited number of sessions per month. Sessions often book out one to two months in advance - please plan accordingly.
Q: I would LOVE to experience a Glamour Makeover Session with my mother/daughter/grandmother/sister/best friend. Can I do that?
A: Absolutely! Everything I do in my studio is to celebrate women's beauty, value and relationships. Get in touch with me about who you'd like to be photographed with and we can make it happen.
Q: I would love to stay in the loop with your blog and your services. How can I do that?
A: You can keep up with my blog postings by adding my blog feed to your blog readers (RSS) and through our Facebook page. Another way to stay in the loop with specials, promotions and travel is to sign up for email updates by clicking here.
Q: What products do you offer?
A: I took a long time to search for the perfect products to offer with my sessions. I am absolutely in love with every product I've chosen to offer because I truly believe they are gorgeous and made from the best quality materials so they will last a lifetime. My studio specializes in creating fine art photographs for display in your home. I offer various types of wall art - framed, canvas, and metal - for display in your home. I also offer unique high quality albums and matted fine art prints in a gorgeous presentation box.
Q: I really just need a CD of digital files.
A: I totally understand. However, let me say that there is nothing like having a beautiful gallery of canvases hanging in your living room or paging through an album with your best girlfriends, husband, or kids. I am so passionate about creating art products for my clients - probably because I grew up with just a small handful of photos to represent my childhood and family (there's quite a story behind that and I will share it with you if you'd like). Often as women, we think it is silly to have a portrait session all about us. But really, why is it silly to create beautiful portraits that you can share with your loved ones. Exist in photographs for your loved one, for your children and give them something beautiful to remember you by. Most people I know have an old beautiful portrait of their grandmother. Imagine she hadn't been photographed and that you didn't have that portrait now, years later. I yearn to create those heirloom products for each and every one of my clients. If you still feel that you want only digital files, I wish you the best of luck but nfortunately we are not a good fit for each other.
Q: Do you provide digital negatives or raw files?
A: Unlike other photographers in the area, I do not provide raw files (files straight out of the camera without any processing). Every photograph that leaves my studio undergoes a thorough process of editing, retouching and other creative processes until it is polished to perfection. My studio is focused on creating artwork for your home and I do everything I can to ensure that you love your images as much as I do. Most people usually only want digital images so they can share their photographs with family and friends via email and social media. Digital files of the final retouched portraits for you to use for personal printing are available to purchase.
Q: This is all sounds great and I am ready to set up my session. How much does this all cost?
A: When you book your session with Fizzah Raza Photography, you will enjoy the benefits of a highly customized experience that is structured to fit your unique style and needs. If you'd like more information about how my team and I create a custom experience for you, please contact us through the contact form or at the studio - (650) 784-2283.
My simple and selective product menu includes custom fine art prints, canvases, albums and fine art presentation boxes. Session fees are $250 and 8x10 gift prints begin at $75. Most people purchase framed print or canvas for their wall and an album or fine art folio box. Clients typically spend between $850 and $1200. To contact the studio with questions or to book your session, please submit your information through the contact form or call (650) 784-2283
Q: Is the Design Consultation really necessary? I have a pretty packed schedule and don't have time to meet before my session.
A: The Design Consultation is absolutely necessary and probably the most important part of your session! It is the most important element in making your portrait session experience a success. During our get together, we get to talk about your vision for your session, how you want to be photographed as well as what products excite you the most and where you want to display them in your home. We work together during that time to discuss ideas about what you want your photos to convey about you, your hobbies, wardrobe, hair, makeup, location, etc. By going over this information together in a relaxed, fun atmosphere you will feel more confident and comfortable at your session. The consultation also gives you the opportunity to touch and see which products I offer. Lastly, I am right there to answer and questions or concerns that you have on the spot.
Q: I'm a little worried about "posing" and still looking natural. Can you help?
A: As a woman and a photographer, I know what looks beautiful and I know how to bring it out of my clients. You don't need to stress about posing at all because I draw upon my teaching background to walk you through every step so that you look your very best. I give a lot of positive direction and feedback when posing so that we can bring out your best best features in the most natural and flattering way.
Q: Is hair and makeup included in my session?
A: Because my goal is provide you with a relaxed and fun experience, I provide professional hair and makeup in a private, dedicated dressing room with every Beauty and Glamour session. This is your time to get pampered and fussed over by a fabulous team of professionals that will transform you into the most stunning version of yourself. We want you to feel like a star! In fact, you will look so drop dead gorgeous, we always recommend that you schedule a date night with your honey or a girls night out on the day of your session! You can check out some fabulous before and after photos, here.
Q: How long is each shoot and when will I see my photographs?
A: Glamour Makeover Sessions are up to three hours long plus 90 minutes reserved for hair and makeup. You can expect to be able to see and purchase your photographs at the Ordering Session at the studio about two weeks after your session. Once your order is placed and paid in full, I begin preparing the artwork for print and submitting the orders to my favorite professional labs. In general, you will receive your final products about 6-8 weeks after the Ordering Session.
Q: I'd like to book a portrait session but I don't live in San Francisco. Do you travel for sessions?
A: I love to travel and take every opportunity to do so. If you are interested in booking a session in your city, we can discuss the details of your session as well as travel expenses. Ronnie and I travel as often as we possibly can and will book a limited number of sessions during our trip. If you'd like to know when and where we are traveling to your area, sign up for email updates here.